---
Anuncios de Otros servicios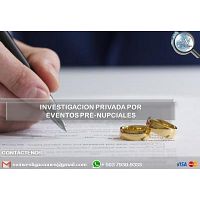 Negocios y Servicios / Otros servicios

·

Baltimore
El servicio de Investigación Privada por Eventos Pre-nupciales Se realiza una investigación a fondo del récord de la persona comprometida en donde se incluye informacion detallada de la persona investigada antes de haber adquirido el compromiso con s...

Negocios y Servicios / Otros servicios

·

Columbia
The service Private Investigation for Defamation Activities of the slanderer in question are tracked and information is provided on the identity of the slanderer, photographs, social networks etc. Our offices are located in El Salvador, San Salvador an...

Negocios y Servicios / Otros servicios

·

Silver Spring
Freight bill audit and processing can be a time-consuming process and need expertise at times to manage smooth operations and lower the cost of business operations. Freight bill audit companies checks that the freight bills don't consist any inconsi...