Artística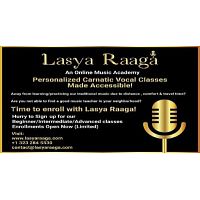 Learn Carnatic Vocal Music Classes In Online | Lasya Raaga
Educación y Cursos / Artística

·

Los Angeles, California
Lasya RaagA An Online Music Academy Personalized Carnatic Vocal Classes Made Accessible!! Away from learning/practicing our traditional music due to distance, comfort & travel time? Are you not able to find a good music teacher in your neighborh...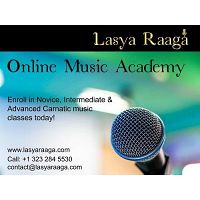 Learn Carnatic Vocal Music Classes In Online | Lasya Raaga
Educación y Cursos / Artística

·

Los Angeles, California
Carnatic Music Lessons Online! Now you can learn Carnatic vocal with KATYAYANI KOMPELLA & Nalini. Lasya Raaga Offer's you Novice - Carnatic Classical, CLASSICAL WAY - INTERMEDIATE LEVEL & HIGHWAY - Advanced 8 Classes per month(8 hours) with low co...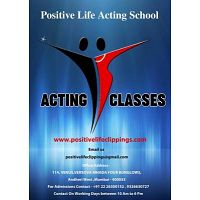 Positive Life Acting School
Educación y Cursos / Artística

·

Montgomery, Alabama
A great announcement from Positive Life Acting School.The Scholarships offer are to support many aspiring actors, who have the art and need to be crafted to rise and shine as a star in the acting field. https://www.positivelifeclippings.com/ Are you searching for Personal Coaching Sessions in Florida: Jolie Glassman
Educación y Cursos / Artística

·

Newport News, Virginia
Is there something that you want to accomplish and can't find exactly how to? I will guide you and give you tools and walk with you until I EMPOWER you – to own all your own POWER. If you are ready to make a tangible change, to really create and live ...